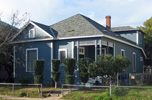 Four new buildings added
to Fresno's Local Register
In December the Fresno City Council designated two residences in the North Park District, one recently-renovated bungalow court, and a landmark home on Huntington Boulevard to the Local Register of Historic Resources. The new register properties are the George W. Smith Home (ca. 1904), the Henry & Emily Banta Home (ca. 1895), the Flora Montague Bungalow Court (1922), and the Bekins-McClatchy Home (1926).