Albert C. Martin (1879-1960)
Albert C. Martin, older brother of Los Angeles architect Emmett G. Martin, completed his formal education in architecture and engineering at the University of Illinois in 1902. After receiving his Bachelor of Science degree, he began his apprenticeship as a draftsman for Brown-Ketcham Iron Works in Indianapolis. He continued his training in steel and iron technology as an inspector with the Pennsylvania Railroad Company in Pittsburgh. After obtaining expert structural experience working in the mills, Martin joined Cambria Steel Company in Johnstown, Pennsylvania, as a designer/estimator.
In January of 1904, Martin moved to Los Angeles to accept a position as a superintendent of construction for Carl Leonardt & Company, a major building contractor on the West Coast. A year later he joined the staff of Alfred Rosenheim FAIA (1859-1943). During Martin's association with Rosenheim, for whom he worked as an engineer, the firm designed the Second Church of Christ Scientist (1905-1910). In 1908, Martin established his own office in Los Angeles.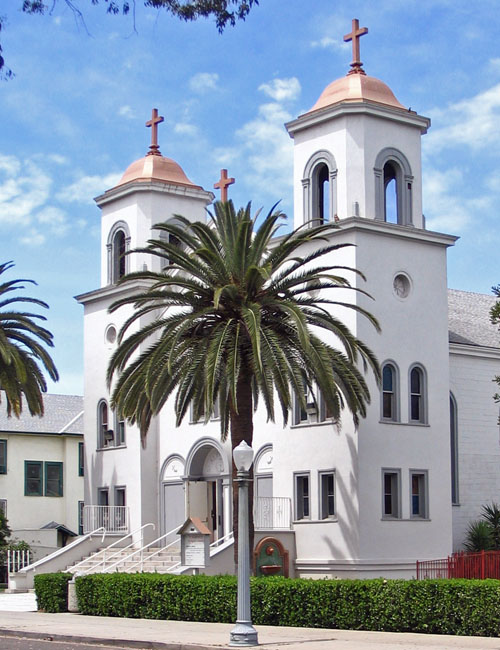 Among Martin's significant commissions were the Ventura County Courthouse in Ventura (1911-1912), the Chapel of Mary Magdalen in Camarillo (1913), St. Alphonsus Catholic Church in Fresno (1914, see photo on right), the Million Dollar Theater in Los Angeles with William L. Woolett (1918), the New Calvary Cemetery entrance gates in Boyle Heights (1923), St. Vincent de Paul Catholic Church in Los Angeles (1923-1925), St. Monica's Catholic Church in Santa Monica (1925), the Boulevard Theater in Los Angeles (1925), the Los Angeles City Hall, with John C. Austin, John Parkinson and Austin Whittlesey (1926-1928), and the May Company in Los Angeles with S. A. Marx (1940).
Albert C. Martin died in Los Angeles on April 9, 1960. The firm bearing his name, AC Martin Partners, continues to play an influential role in Southern California architecture. As a leading proponent of the Corporate International style, the firm helped create today's dramatic downtown Los Angeles skyline with such high-rise works as the striking twin towers of the Atlantic Richfield/Arco Plaza (1972), the Union Bank Building (1968), the Security Pacific Plaza (1973-1974), the Wells Fargo Building (1979), and the Manulife Plaza (1981-1982).
Written by John Edward Powell.
© 1997 John Edward Powell.