A. C. Swartz (1846-1919)
Alexander Culbertson Swartz was born in Westmoreland County, Pennsylvania, on January 5, 1846. He studied at the University of Illinois, where he received a degree in civil engineering in 1873. He remained at the university until 1877, teaching architecture and mathematics.
In 1877 Swartz joined the engineering department of the Santa Fe Railroad to survey railroad construction in Kansas, Colorado, and New Mexico. In 1890 he moved to California to survey Pacheco Pass for a railroad route. The project ended when the railroad developer who had hired him suddenly died. Swartz returned to Fresno, where his family had been living, and opened up an office as an architect and a civil engineer. Swartz's earliest recorded project in Fresno was the Kutner-Goldstein Block (1891). After a short-lived partnership with Harry A. Thomas in 1895, Swartz worked alone. His major projects from the late 1890s were the National Brewing Company and the Risley Block in 1897.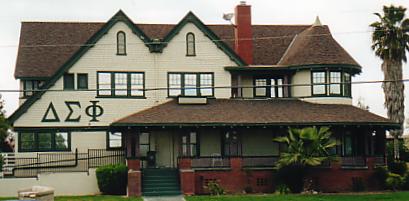 By the early 1900s Swartz had built a thriving practice. Among his projects from this period were Washington Union High School (1901), the County Almshouse (1906), and the J. W. Proffitt Home (1909, see photo on right). The latter building is now the Delta Sigma Phi House at California State University, Fresno.
Swartz was joined by his son Fred L. Swartz in 1909. Notable works by Swartz & Son were the B. A. Harvey Residence (1911), Le Grand High School (1912) in Merced County, and the J. C. Forkner home (1913). In 1913 Robert B. Hotchkin (1859-1929), formerly associated with B. G. McDougall in San Francisco, joined the firm. The fine Coalinga Carnegie Library was designed by Swartz, Hotchkin & Swartz in 1913. Hotchkin opened his own office in 1915. Under the new name of Swartz & Swartz, the firm continued until 1919. Their late projects included the Visalia Elks Building (1916) and the Thomas Risley Residence (1917, see photo below) in Fresno.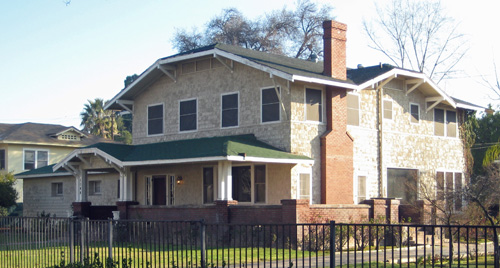 A. C. Swartz died in Fresno on August 27, 1919. His son continued to practice architecture until he retired in 1965, making the Swartz name the longest running architectural legacy in the history of the Central San Joaquin Valley.
Written by John Edward Powell.
© 1996 John Edward Powell.