Lawrence Karekin Cone (1888-1984)
---
Lawrence Karekin Condrajian was born in Istanbul on July 20, 1888. (He changed his last name to Cone in the mid-1920s). He completed his early education at an American mission school in Bardezag, Turkey. In 1909 he graduated in Architecture and Sculpture from the Academy of Fine Arts in Istanbul, where he received a classical Beaux-Arts education. He apprenticed with the Societe Ottoman des Router Ottoman, designing highways and bridges, and with Ansaldo-Armstrong, designing gunboats. In 1911 he emigrated to the United States.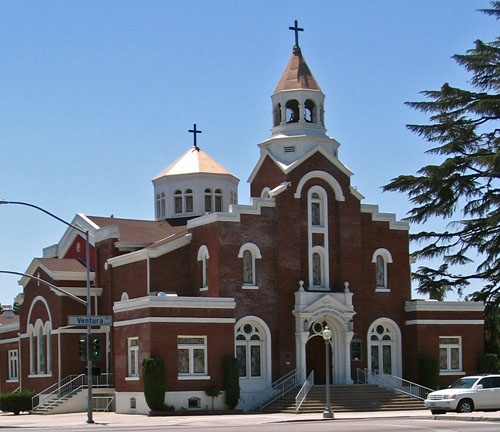 Arriving on the West Coast, Cone responded to a Los Angeles newspaper advertisement placed by Fresno architect Henry F. Starbuck, who took on the young Armenian architect as a draftsman. In 1912 Starbuck encouraged him to design the Holy Trinity Armenian Apostolic Church (shown on right), Cone's first major commission in this country.
In 1916 Cone moved to Chicago to work for Luhr and Friedele, specialists in designing breweries. He returned to Fresno in 1918 and built a small practice serving a minority clientele comprised of Armenians, Assyrians, Russians, and Italians. From 1927 to 1949 Cone was employed by the Federal Architects Office, posted first to Hawaii, then to Washington, D.C. He served as Public Works architect for the City of San Francisco from 1949 to 1953.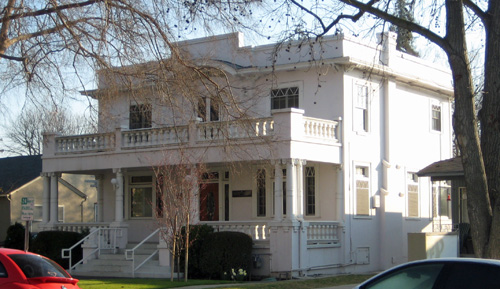 Cone's early Craftsman Bungalows are modest compared with his exuberant Beaux-Arts student designs. His Tateosian Home (1914) reflects how he adapted his designs to the needs of his Valley clientele. The only Fresno house which reflects his formal Beaux-Arts training is the Fathy Home (1922, shown at left). Cone maintained ties with the Armenian community throughout his career, designing St. Mary's Church in Yettem in 1947. His surviving drawings are in the Department of Special Collections, Henry Madden Library, California State University, Fresno. Lawrence K. Cone died in Oakland on January 23, 1984.
©1996 John Edward Powell. All rights reserved.