George Washington Maher (1864-1926)
George Washington Maher was born in Mill Creek, West Virginia, on December 25, 1864. During his teens he apprenticed to prominent Chicago architects Augustus Bauer and Henry Hill. Maher joined the office of Shingle style architect J. L. Silsbee as a draftsman in 1887, where he worked with fellow draftsman Frank Lloyd Wright.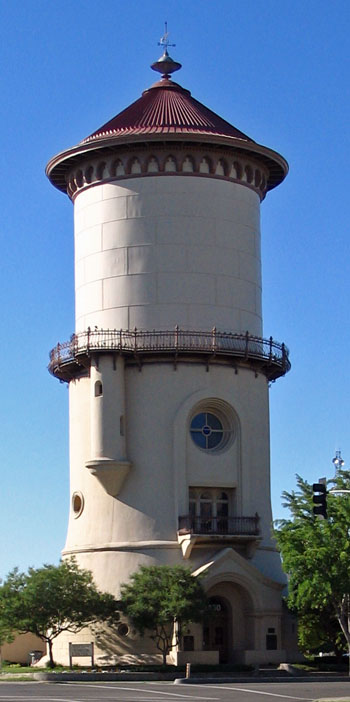 In 1888 Maher formed a short-lived partnership with Cecil Corwin. After Corwin left, Maher practiced alone until 1914, when his son Philip joined him for a brief period. After the war the firm became George W. Maher and Son.
During the 1890s Maher worked in a variety of styles. His Shingle and Queen Anne projects were widely reviewed in the journal Inland Architect during this period. Maher modeled his design for the Fresno Library and Water Tower (1894, shown on right) on a Medieval Romanesque tower. By the late 1890s Maher's work began to reflect characteristics of the Prairie style. He was one of the pioneer Prairie style architects along with Frank Lloyd Wright, Purcell & Elmslie, and Walter Burley Griffin.
Maher's most important and productive period came after 1904. His bold and idiosyncratic residential interpretations of the Prairie ideal were built throughout Chicago's suburbs, including Oak Park, Evanston, Kenilworth, and Winnetka. He developed the campus plan for Northwestern University in 1907 and designed Swift Hall and Patten Gymnasium on that campus. He also did a great deal of work in Wausau, Wisconsin.
After World War I, Maher became a vocal proponent of community planning and prepared development plans for Glencoe and Kenilworth. He is also credited with forming the committee that launched the first efforts to restore the Fine Arts Building designed by Charles Atwood for the 1893 Columbian Exposition at Chicago.
Subject to bouts of depression all his life, Maher became despondent in 1925 and never fully recovered. He committed suicide on September 12, 1926.
©1996 John Edward Powell. All rights reserved.