Charles Henry Cheney (1884-1943)
Charles Henry Cheney was born in Rome, Italy, on February 11, 1884, of American parents. He graduated in architecture and engineering from the University of California, Berkeley in 1905. From 1907 to 1910 he studied at the Ecole des Beaux-Arts in Paris. For two years he traveled extensively in Europe, studying city planning in the major cities of France, Italy, Spain, and England. Upon returning to the United States in 1912, he worked in New York for Charles A. Platt, who later became President of the American Academy in Rome.
In 1912 Cheney moved to California's Bay Area and immediately became a public advocate for city planning on the West Coast. He organized a statewide planning conference in Monterey in 1914 and invited civic leaders, chambers of commerce, real estate associations, improvement clubs, architects, and engineers from every city in the state. His draft for the first city planning enabling act in California was passed by the legislature in 1915.
During his career Cheney served as a planning consultant for numerous California cities, including Santa Barbara, Berkeley, Alameda, Monterey, Palo Alto, Long Beach, Riverside, and Fresno. His visionary plan for Fresno (see site plan and rendering below) was completed in 1918 but was, by and large, ignored. Cheney's brilliant rendering for the Fresno Civic Center is a reminder of the potential of downtown Fresno during the 1920s, the heyday of its architectural development. John Edward Powell's 1986 article, "The Fresno Civic Center: An Architectural History," provides greater detail on Cheney's involvement with the Fresno plan.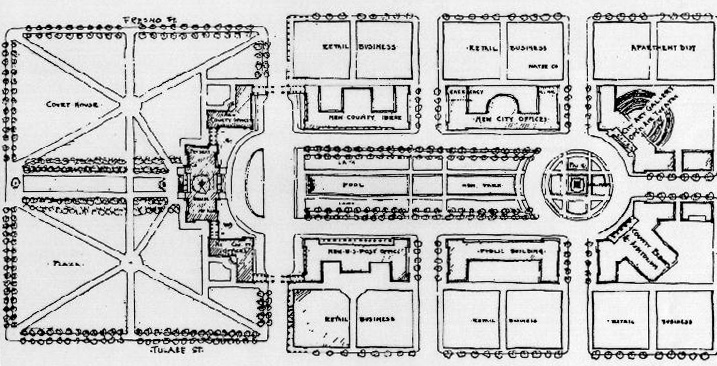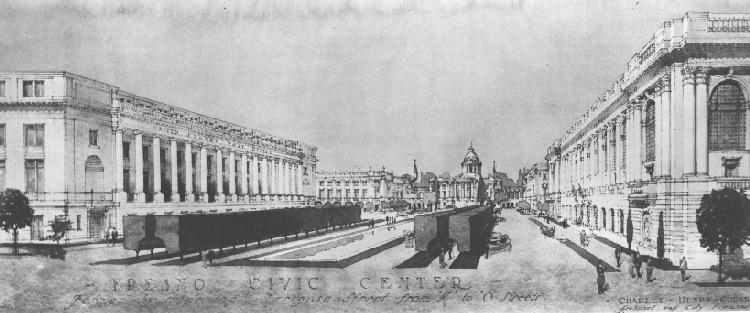 Cheney also served as a technical consultant for townsite and subdivision developments in Cerritos Park, Atlantic Village, Palos Verdes Estates, and Rancho Santa Fe in Southern California. Outside California, Cheney worked as a planning consultant for Portland, Oregon; Spokane, Washington; and Chandler, Arizona.
At the time of his death, Charles Henry Cheney made his home in Palos Verdes Estates, California. He died on May 8, 1943.
©1997 John Edward Powell. All rights reserved.