Robert Hotchkin (1859-1929)
Robert Hotchkin was born in New York on July 10, 1859. Before settling in Fresno, California, in 1904, Hotchkin practiced architecture in Chicago. In Fresno he affiliated with McDougall Bros., a pioneer California architecture firm that maintained its principal office in San Francisco at that time. After the 1906 earthquake, McDougall Bros. closed its Fresno office to concentrate on a large backlog of work associated with the reconstruction of San Francisco. Hotchkin also relocated to the Bay Area to work for B. G. McDougall. In 1912, Hotchkin was awarded his licence to practice architecture in California. Before returning to Fresno the following year, he managed construction of the $1 million Standard Oil Building in San Francisco.
Hotchkin joined A. C. Swartz & Son, a Fresno architectural firm, in 1913. Shortly thereafter, the new firm of Swartz, Hotchkin and Swartz designed the exquisite Coalinga Carnegie Library, now demolished. Other early Fresno projects included the R. W. Byxbee Home on Olive Avenue, the Turnball Flats on Blackstone Avenue, the San Joaquin Bakery at San Benito and P Streets, and the A. W. Burdick Home in the Wilson Tract. Swartz, Hotchkin and Swartz also designed the Walker Ranch House at Yettem, California.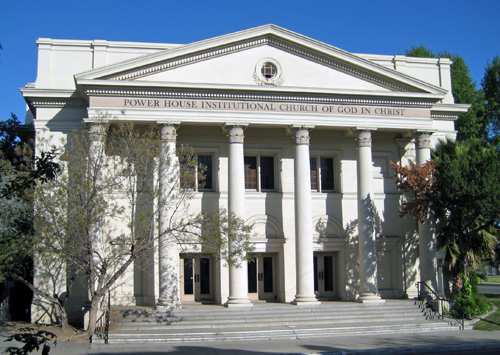 Hotchkin opened an independent office in 1915. Among his most prominent extant works in downtown Fresno are the First Church of Christ Scientist (1916, on right) and Temple Beth Israel (1923). The striking Christian Science edifice, designed in an imposing local adaptation of the Boston Mother Church tradition, and the exotically detailed synagogue, now used as a community youth center, still front one another on Calaveras Street. In 1917, Hotchkin designed residences for Minnie Sachs on Pine Avenue and Elizabeth Hagan at Floradora and Wishon, in what would later become known as the Tower District.
Robert Hotchkin died in Fresno on August 18, 1929, at the age of 70. At the time of his death he resided at 998 Wilson Avenue with his wife, Madge Child Hotchkin (1864-1943).
©1997 John Edward Powell. All rights reserved